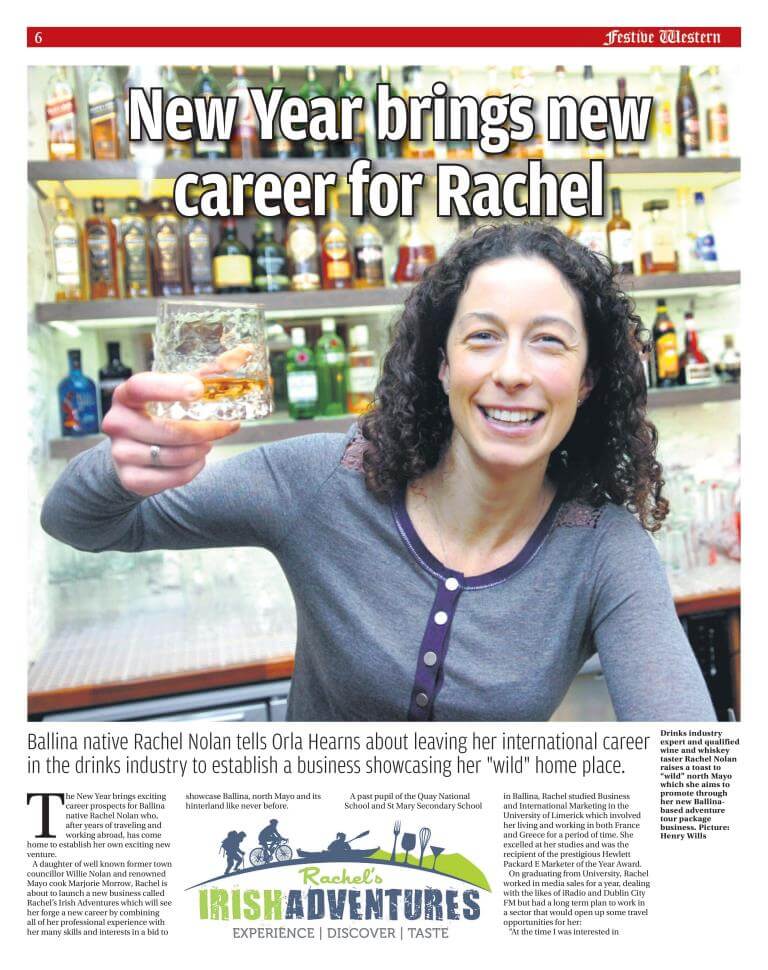 Ballina native Rachel Nolan tells Orla Hearns about leaving her international career in the drinks industry to establish a business showcasing her "wild" homeplace.
The New Year brings exciting career prospects for Ballina native Rachel Nolan who, after years of travelling and working abroad, has come home to establish her own exciting new venture.
A daughter of well known former town councillor Willie Nolan and renowned Mayo cook Marjorie Morrow, Rachel is about to launch a new business called Rachel's Irish Adventures which will see her forge a new career by combining all of her professional experience with her many skills and interests in a bid to showcase Ballina, north Mayo and its hinterland like never before.
A past pupil of the Quay National School and St Mary Secondary School in Ballina, Rachel studied Business and International Marketing in the University of Limerick which involved her living and working in both France and Greece for a period of time. She excelled at her studies and was the recipient of the prestigious Hewlett Packard E Marketer of the Year Award.
On graduating from University, Rachel worked in media sales for a year, dealing with the likes of iRadio and Dublin City FM but had a long term plan to work in a sector that would open up some travel opportunities for her: "At the time I was interested in something that would involve selling Ireland or Irish products abroad. Now I've come back home to sell Ireland from Ireland," she smiles.
Rachel successfully applied for the Jameson Graduate Programme and it's a decision that she has never regretted: "The key thing about working in the whiskey industry is passion. You get to work with people who are very passionate about whiskey and about its Irish roots. The fact that Jameson is an international company also opened up a lot of doors for me," she explained.
During this time Rachel also successfully completed the level three Wine and Spirit Education Training award with a distinction but before becoming too engrossed in her professional life, she decided to take some time out and travel the world:
"I just headed off on my own, having decided to go just two weeks before. I spent the first five months in South America where I learned to speak Spanish and then I just travelled all around on my own – by motorbike, hitch-hiking and couch surfing with a 6 kilo bag and no phone, laptop, books or music," she explains.
"The best thing to invest in is yourself and traveling is the best way to open your mind to different cultures and people. You learn more about yourself, exploring different boundaries and getting off the beaten track."
Not long before Rachel was due to complete her trip, she was contacted by Jameson who invited her back to work. She accepted and went on to spend about six months on the road, working in the area of sales but the travel bug soon hit again.
Rather than losing Rachel altogether, the company arranged for her to apply for a position in the headquarters of its parent company Pernod Ricard in Marseilles, France: "I went there four years ago. I was like a Jameson ambassador and was in charge of their strategic marketing."
Rachel ultimately ended up spending a lot of time traveling all over France in this role and from there was given responsibility for developing the west of France market, operating out of Nantes. In fact, she won an award for her work in the promotion of Jameson in France.
Before too long Rachel was being headhunted by various big brand companies and eventually accepted an offer to work for the well known Australian company, Skins, which allowed her to diversify from the drinks industry into one of her other great interests in life – sport.
Growing up in Ballina, Rachel was passionate about sport. She played football with the Ardnaree Club in Ballina and played for her county at U12, 14, 16, 18 and senior level. On progressing to college, she got the opportunity to indulge this interest on a completely different level:
"Once I went to college I started travelling and I started to get into adventure racing. Ever since then that has been my scene," she explained. Rachel is a regular competitor on the grueling national and international endurance scene and even recently completed the infamous Marathon Des Sables event – a grueling multi-stage adventure through the Sahara Desert which is regarded as the toughest footrace on earth.
Her role with Skins brought Rachel to live in the French city of Lyons and involved her working with a lot of professional athletes and traveling extensively throughout France, covering over 70,000 miles in one year: "Now I don't even have a car," she laughs. Rachel trained extensively herself during this time, specializing in trail running: "I don't like anything on the road. I like exploring, discovering, getting lost up in the mountains and being out in the wild," she explains. "The really nice side to that is that you are with other like minded people and your main objective is just to get to the end." While she reveled in the career and lifestyle opportunities that her work in France afforded her, as time went by Rachel felt the pull of family and home and last September, took the decision to return to Ballina. Although she was not short on job offers in the Irish market, she felt the time and conditions were right to set up her own business.
"It's going to be called Rachel's Irish Adventures. The whole idea of it is to offer packaged tailored tours, primarily based out of the north Mayo/west Sligo area, catering for tourists and events like hen and stag dos," she explained. The business will present Rachel with an opportunity to utilise her many diverse skills including her fluency in French and Spanish, her love of sport and her qualifications as a wine and whiskey taster, a personal trainer and a instructor in the Krav Maga form of self-defence while also teaming up with local hotels, bars, restaurants and activities providers and even her mother's own Quay based B&B and cookery school in a bid to truly showcase her home place.
Rachel's arrival back in Ballina serendipitously coincided with the official opening of Ballina's new craft distillery the Connacht Whiskey company and so she will be dividing her time in the coming months between developing her new business and working for this new local enterprise which shares her great passion for Irish whiskey.
Rachel's responsibilities with Connacht Whiskey will involve helping to establish its visitor centre and co-ordinate its sales strategy.
"It's worked out pretty well. I could kayak across the Moy to work in the morning and go for a run in in the woods at lunch time," she jokes.
Rachel also offers group wine and beer tasting courses. She recently hosted some whiskey tasting at Ballina Chamber of Commerce's Christmas luncheon in the Ice House Hotel but also operates out of local establishments like Keane's bar in the Quay:
"I am teaching people how to appreciate whiskey. A lot of people do not know much about it and might not have had the best impression of it if they've only ever had one after drinking something like 20 pints," she laughs.
The young entrepreneur says she has been greatly impressed by the developing buzz she has witnessed around north Mayo and in its economy since returning home and believes the area is about to come into its own:
"North Mayo is an outdoor paradise whether you're out running the trails in Ballycastle/Downpatrick or Erris or just in Belleek Woods in Ballina," Rachel explains.
"The area is really untapped and has that authentic wild experience I want to bring people to this out-of-the-way place. I think the Wild Atlantic Way is just unbelievable. It has an amazing marketing strategy and I will be using that to move my business along," she concludes.
To contact Rachel email info@ rachelsirishadventures.com, telephone (085)1108969 or visit the website www.rachelsirishadventures.com.