The best way to travel Ireland
Finding the best way to travel Ireland
A lot of people ask me:
"What's the best way to travel Ireland?"
As a tour guide and enthusiastic explorer myself I can tell you: There is no one way fits all! Ireland might be a small island in size but it's certainly not short on adventures, experiences or places of interest. The good news is you can travel Ireland in any way you can think of, you just have to decide what traveling style meets your needs.
I've put together a little guide on how to decide what style of travel or what type of tour to choose. Once that decision is made it's easy to put together the perfect route and itinerary for an unforgettable Ireland adventure.
Looking to travel Ireland 'off the beaten path'? Check out some recommendation on places to visit in my blog The ultimate Ireland bucket list (for all who hate bucket lists)
Self organised freestyle | self-drive to travel Ireland
One option to travel Ireland is to just book a flight, rent a car from the airport (or take your own over on the ferry) and you're off. Self-drive vacations with only a rough route idea, for example just following the Wild Atlantic Way, are very popular amongst adventurous people of all ages.
Just following the roads looking for adventures – Ireland is for sure a country where you can find amazing surprises while getting lost on little backroads. I believe this style of travel is ideal for people who come to Ireland with a camper van, are independent and have lots of time to explore.
How to plan a self-drive trip to travel Ireland
There are a few to consider before deciding on this traveling style. Some don't realise the actual size of the island and how long a journey on the beautiful Irish country roads can take. You will need to have done some research to know what direction you are going in and what you want to see and do. Additionally it's nowadays always advisable to book accommodation in advance, especially in the summer months, otherwise you could end up sleeping in your car (no problem in a camper van) or you will only have the option of a hotel over your budget etc.. Even most Bed & Breakfasts are on booking platforms these days and their rooms are filled up weeks in advance.
Ireland truly has stunning natural wonders and historically important sights around every corner, still it's not that easy to find the way sometimes. If you cruise around without an itinerary you might miss some cool local highlights.
Is self-drive for you?
To sum it up this travel style suits people with little time constraints, who don't mind getting lost while driving on the Irish country roads. It's perfect if you don't have specific expectations and if you are happy to just go with the flow and be amazed by randomness.
Self guided tours to travel Ireland
In this case you get in touch with a reputable local Irish tour company and communicate with them to create a tailor-made self guided adventure or purchase a ready prepared tour that you see on their website. This might still involve renting a car but having the tour company co-ordinate the accommodation bookings, suggested activities, restaurants and giving you a list of hidden gems to discover.
Is self-guided for you?
A self-guided tour is a nice way to travel if you wish to be independent and like driving on the left side of the road on sometimes very narrow roads with lots of sheep. The tour company will take the hassle out of making bookings, will provide you with route details and ensure you don't miss out on ticking off your bucket list.
Why a self guided tour to travel Ireland?
For many people the main reason for going self guided is the budget. Although in many cases it might be worth considering getting a private tour guide along with your tailor-made itinerary. In this way you can enjoy lots of freedom and flexibility without the hassle of driving in a foreign country along with a lot off local knowledge. Additionally it's easy to calculate the costs beforehand and this can overall work out cheaper than driving yourself, especially if you are four or more people.
Travel Ireland by bike
In my opinion, for Ireland a self guided tour is the best option if you are interested in a cycling adventure. In this way, you don't have to worry about driving, you are super independent, you can stop off where ever you want and take each day at your own pace. You get to experience the wild Irish landscape and local communities up close and personal. For example with Rachel's Irish Adventures I offer tailor made self guided cycling tours focusing on getting people off the beaten path to explore the best of Ireland. Like this, it's possible to co-ordinate a tour to meet someones needs and budget. Here the clear advantage is that local knowledge can be used to tailor a personal itinerary. The tour company then takes care of bookings, provides you with maps – both digital and physical – and gives you all the tips where to stop off. In this way, you don't miss out on any stunning views or delicious coffee and cake stops. Usually the tour company includes a bike rental and there is the option of availing bike-panniers or letting the company take care of transporting your luggage between accommodations.
Guided tours to travel Ireland
Do you want to take the hassle out of booking accommodation and planning out your itinerary on your own? Are you anxious about driving in a foreign country and have a fear of missing out and getting lost? If so, then a guided tour is for you! Now what is important is deciding what type of guided tour suits you.
Large group coach tours to travel Ireland
For example if you have very limited time, a tight budget and you want to cross Ireland's biggest tourist attractions off your bucket list, a big coach bus tour might suit you. Although you shouldn't mind being with lots of other tourists and sticking to a strict time schedule.
This type of larger group tours usually leave serval times a day from the cities whether that be for a day trip or multi-day journey. Packages like this can easily be picked out and bought on the internet. They are usually specialised in ticking as many boxes as possible in the shortest time frame possible. I've talked to people who've been to Dublin, Belfast, the cliffs of Moher and the ring of Kerry in under 2 days. This means though you spend 90% of the day stuck in a 52 seater bus.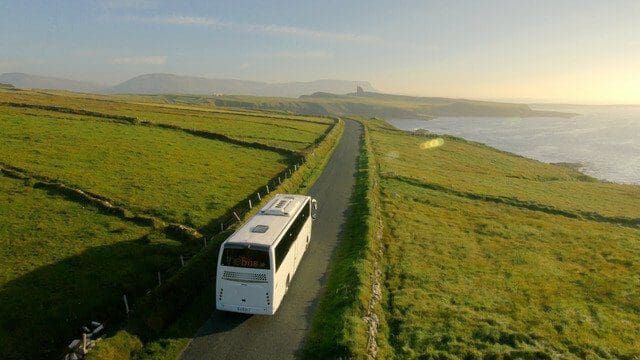 Smaller group tours at set dates with a special focus
The next option is purchasing a ready prepared tour that leaves on a certain set date joining a usually smaller group of people. This is a good option if you find an itinerary that fits a certain specific interest of yours for example photography, hiking or trail running. Maybe you are a solo traveller and want to meet more people to share the experience with, or you want to try out something new. Usually specialising in private tailor-made tours, Rachel's Irish Adventures has one tour in 2020 with a set date which is our Women's Trail Running & Cultural Retreat taking place April 25th– May 2nd. For example the focus of this adventure is to bring together a group of like-minded women to explore the best trails and the local cultural hidden gems in the west Ireland and have a very immersive and personal experience.
Tailor-made tours to travel Ireland
If you want a more personalised adventure, get in touch with a local reputable guide or tour company and communicate with them about what you would like to see and do. Explain to them your style of travel and give them an idea of your budget so they can create a tailor-made tour to meet your needs. The huge advantage of this is that you choose the pace, everything can be very flexible and most importantly you will have a locally immersive experience as your guide will take care of absolutely everything. From the moment you arrive at the airport until you are dropped off at the airport, you just have to relax and enjoy your adventure!
Local guides
The best deals (value and money) can usually be found with smaller local tour companies. Trying to get in contact with the person who will actually bring you on tour can prevent misunderstandings and will add immense value to your experience while keeping the cost relatively low by cutting out commissions.
Why book a tailor-made tour to travel Ireland?
If you choose this style of travel, you will have a truly immersive experience and get a locals insight into the Irish lifestyle and passion for their country. Since your guide knows the area inside out, you will be getting the chance to be spontaneous and have a new discovery around every corner. The goal is to not feel like a tourist but rather a part of the local communities. Your guide will become your friend and this is how you really get off the beaten track. Let your local guide show you to their favourite Irish coffee places and help you find the countries hidden gems. Im many cases you will end up meeting their family and friends.
The part that I personally love most about guiding is to bring groups back to my Mam's Bed & Breakfast, showing them where I grew up and having my new friends join Mam in the kitchen to learn how to bake Irish soda bread and hear about the old Irish baking traditions.
1 Comment