Your Ireland packing list depends a little bit on your travelling style and interests. However, for the most part your packing list will be the same, no matter if you travel to Ireland for a hiking adventure, city visits or a road trip.
I'm sure you've heard about Ireland's '4 seasons in a day'. In other words, you can expect any type of weather at any time of the year. In conclusion, the items on your Ireland packing list should be practical in most weather conditions.
The right suitcase for your Ireland trip.
Before talking about the items on your Ireland packing list let's look at the best bag choice. Should you bring a big, hard-shell suitcase, a duffle bag or a backpack? Here are a few points to consider:
Bag size – Do I need a big suitcase for my Ireland trip?
Depending on your travelling style you'll most likely be staying in a mix of Bed & Breakfasts and hotels. For instance, be aware that some bedrooms in Irish accommodations have limited space, especially when you've booked traditional B&Bs or hotels in cities. Therefore, you might have to carry your luggage up and down narrow stairs. Furthermore, depending on what mode of transport you'll mainly use, you will have to lift/carry your suitcase in and out of buses, trains, or cars. Keep in mind that the bigger your suitcase, the more (mostly unnecessary) stuff you will bring and the heavier your luggage will be. Additionally, hard-shell suitcases tend to be heavy themselves – duffle bags on wheels are usually a lighter option.
To sum it up, choose the size of your suitcase wisely and according to your traveling plans. Also don't go for more than you can handle yourself.
Can I travel to Ireland with hand-luggage only?
I believe hand-luggage only is the best way to travel to Ireland. Above all, travelling light will save you a lot of hassle. It means, you won't have to worry about your luggage getting lost. Unfortunately, luggage misplaced by airlines was a big topic this year. Pictures of airports filled with stranded suitcases went around the world. Besides hoping that the situation will be better in 2023, the best action to avoid luggage related problems is to travel light and only bring your carry-on.
The following Ireland packing list will help you to keep your luggage as light as possible while bringing everything you need with you.
Packing cubes – The ultimate Ireland packing list pro tip!
If you haven't used packing cubes before be prepared for your traveling life to change. Ultimately, packing cubes are the best way to turn your Ireland packing list into a nicely organised & compact suitcase reality. Therefore, packing cubes are a game changer when it comes to traveling with carry-on only.
Firstly, they will help you optimise the space in your suitcase. I recommend rolling up your clothes to fit as many items as possible into one cube. Then, zip it half-way, press the air out and fit even more rolled clothes into the bag. It's like magic.
Secondly, they will help you keep your things tidy during your trip. Personally, I pack my cubes keeping categories of clothes together. For instance, I keep all my underwear & socks in a smaller cube, my t-shirts and other tops in one, pants and jackets together in a bigger one etc. This makes it easier and faster to locate certain items.
Last but not least, the cubes make un- and re-packing a lot easier. After all, it's likely you'll move your accommodation every other day. No matter how tidy you packed your bag at home, moving from hotel to hotel is where things can get messy. Packing cubes can function as your 'travel drawers' and keep things together instead of un- and re-packing every item individually.
Day-bag/backpack
I recommend you bring a small backpack that's comfortable to carry over longer periods of time. Firstly, you can always bring a small backpack onto the aircraft additionally to your carry-on suitcase. Hence, you can use the backpack to carry extra things you couldn't fit into the suitcase or to keep your laptop/tablet etc. safe and close to your seat.
Secondly, you'll need a day-bag during your trip. Most importantly, it should be big enough to hold a water bottle, rain-jacket, extra layer & a small snack – everything you need for a day out hiking or sightseeing. Generally, a capacity of around 15-20 litres should be perfect. Furthermore, I recommend lining your day-bag with a small, lightweight dry bag to put your extra clothes and valuables in and keep them dry – just in case it rains!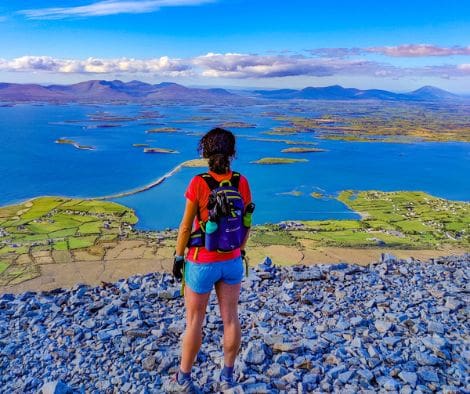 Recommended clothing for your Ireland packing list
Casual & active wear
Jeans/trousers:
1-2 pairs are fine for any duration. If you travel longer than 1 week you can do laundry.
Hiking pants:
If you plan on doing walks or hikes bring 1-2 pairs of suitable pants. This could be leggings or other quick dry outdoors trousers. Hiking in jeans is not ideal.
Shorts:
During the Irish summer you would rarely see me in anything else. I know I might be exceptionally persistent in this matter, in any case, I recommend throwing 1-2 pairs of sporty/comfy shorts into the bag. They are handy for hiking, walking on the beach or hanging out in the hotel room in the evenings. Also, the Irish weather can be nice and warm in the summer.
T-shirts/tank-tops:
Depending on your level of activity 5-7 t-shirts/tops for a week. Bring half of them in light, quick dry fabrics for more active days and half normal comfy t-shirts for the evening or non-active days.
Long-sleeves/base-layer:
2 quick dry and lightweight long sleeves or shirts to put on over your t-shirt.
Sweater/hoodie/Pullover:
2 warmer tops. I recommend 1 light fleece top for the outdoors and a hoodie/sweater/jumper for the rest of the time.
Underwear:
7 pairs of underpants. Comfort is a priority. 2-3 bras incl. sports bras.
Rain jacket:
Must have for Ireland. If you plan on hiking or walking it's worth investing into a good rain jacket like the Columbia outdry jackets. Go for a light rain jacket so you can always have it in your day-bag. Choose a size where you can fit a long-sleeve or fleece underneath and you will be fine for any condition during the summer.
Warm jacket:
If you travel to Ireland in the shoulder season in spring or autumn you should consider bringing a warm jacket like a lightweight down jacket. Ideally something that you can fit under your rain jacket.
Shoes I recommend packing for your Ireland trip
Comfort is a priority! Bring 2 pairs of shoes in case one pair gets wet.
Hiking shoes / trail runners:
Your active shoes can be 1 pair of hiking shoes or trail-runners with a good grip
Spare comfy shoes:
1 pair of runners for just walking around town or going for dinner. Don't bring new shoes you've never worn before! I recommend leaving the dressy shoes or heels at home unless you plan on going to a wedding.
Sandals:
Bring 1 pair of flip-flops or open toe shoes. They come in handy when you want to get out of your wet hiking shoes in the car, for walks on the beach, or to wear in the evenings at the B&B.
Socks:
5-7 pairs. Invest in good quality socks for walking & hiking. I can recommend Darn Tough, smartwool and Injini socks.
Accessories that shouldn't be missing on your Ireland packing list
Hat:
Something to protect your head from the sun or the cold/wind. A buff might do the trick for both.
Sunglasses:
It's very likely you'll need them during your trip. It hardly ever rains all day!
Scarf:
Something to cover your neck. Also a buff will do.
Buff:
The most versatile and handy piece of fabric you'll ever own 😉
Gloves:
In the shoulder season a light pair of gloves are recommended for people with chronically cold hands like myself.
Swimwear:
If you are travelling along the Wild Atlantic Way don't forget your bathing suit. The beaches on the west coast are stunning and you might join the locals for a sunset dip.
The good wear:
Most of the time we dress very casually in Ireland so anything goes. There is no need to bring formal attire for restaurant visits. You can wear jeans and a top, shorts and a t-shirt or a dress out for dinner and nobody will notice the difference. It's up to you but my opinion is to always aim for comfort.
Water bottle:
You can drink the tap water in Ireland. Therefore, you won't need to buy plastic bottles.
Toiletries:
Above all, toiletries are a matter of personal habit and preferences, but here is a general check list for toiletries. Of course, you can buy all of this in Ireland but you might not get your favourite brand.
Toothbrush, paste & floss
Face cream
Soap/body wash (Most B&Bs and hotels will provide those)
Shampoo & Conditioner (You will find shampoo in most accommodation places but rarely conditioner)
Body lotion
Deodorant
Razor/Shaving cream
Hair brush/ties/products
Sunscreen (High SPF for the face)
Earplugs & sleeping mask (I never travel without them)
Hand sanitizer
Period products
Nail-clippers, tweezers
Glasses/contact lenses
Small quick dry travel towel – Handy if you get wet during a hike or to dry off after a dip in the sea
Travel medication kit:
Your travel medication depends on your personal needs. In general, you'll be able to buy most of the things you could need in an Irish pharmacy. However, it's good to have a few basics with you. Moreover, be aware that what is sold in pharmacies without prescription might be different to your home country.
Pain reliever (Paracetamol is sold in supermarkets in Ireland, Ibuprofen only in pharmacies)
Medication for upset stomach, nausea, or diarrhoea & electrolytes (Jet leg and unusual food sometimes irritates the gut)
Motion sickness medication (Roads in Ireland can be bumpy or windy, boat trips, plane)
Sleep medication: Melatonin is not sold over the counter in Ireland. Any type of sleep aid will require a prescription by a GP and doctors are unlikely to prescribe them to patients they don't know.
Band aids/disinfectant
Personal medications
Have a chat with your GP about other medication for your travel kit
Electronics you might need:
Phone (open for foreign sim cards):
I recommend getting a local sim card with a data plan instead of relying on wifi hotspots.
Camera:
Most phones are perfect for taking memories of your trip. Only bring a professional camera if you are experienced using it.
E-reader/tablet
Chargers/adapters:
Don't forget the fitting cables and chargers for your devices. Most likely you'll need a plug adapter. Contrary to the rest of the EU we are using the UK plug in Ireland. ('G' electrical outlet with 3 square prongs).
Hair dryer:
Hotels and B&Bs usually have hair dryers you can borrow.
Money:
The Republic of Ireland uses Euro and Pound Sterling is the currency in Northern Ireland. You can't use Euro in Northern Ireland or the other way around.
Credit card:
Visa and MasterCard are the most widely accepted credit cards in Ireland. Be aware that Credit Card payments in Ireland might require entering your PIN number!
If you are looking for a 'Travel money card' for an easy overview of your travel finances and minimal fees – check out the wise borderless account.
Cash:
There are still places in Ireland where you can't use your credit card. You can either withdraw cash from ATMs with your credit card (make sure you know your PIN number) or exchange USD for EUROs at the airport or a bank.
Venmo:
Please note that Venmo isn't used outside the US.
Add a 'Don't forget' – section to your Ireland packing list:
Some things are too obvious to forget? When you write down your own Ireland packing list I recommend also taking note of the obvious things. More often then not, one forgets about the items they use the most. For example, the reading glasses stay on the nightstand instead of making it into the luggage or the phone charger next to the sofa.
More things to not forget:
Passport
Plane tickets
Visa – make sure you check the visa requirements for the passport you are holding. US citizens can travel to Ireland for 90 days without a visa.
Driving licence – in case you plan on hiring a car. Make sure you double check the licence requirements of your car rental company. You might require an international driving licence.
Copy of your documents in a save location
Travel insurance information
Health insurance information
I hope my Ireland packing list is helpful. Let me know what you think and if there is anything you think I should add.
See you soon!