Call of the West of Ireland
Trail running & culture
Women | Edition
We are delighted to announce Rachel's Irish Adventures first Women's Trail Running Retreat.
⇒ Do you enjoy a good run to escape your routine, keep your body healthy and free your head after a stressful day?
⇒ Do you like the outdoors, exploring new places and the company of interesting people?
Rachel's Irish Adventures Trail Running Retreat will make discovering Ireland's stunning landscapes a very personal, laid back and fun experience. Especially for those who don't want to miss out on a taste of the true Irish culture.
Join your local guide Rachel on a fun packed trail running adventure along the rugged west coast. Experience the local culture, Discover spectacular coastal trails and Taste the best of Ireland's healthy culinary delights.
This week long fully guided women's trail running retreat will take you off the beaten path and bring you on a journey to recharge your batteries and be at one with nature. Run on the edge of the Ireland's highest sea cliffs, visit majestic castles, chase the friendly sheep, drink the best of Irish whiskey and eat delicious wholesome traditional meals with your new friends. This will be an adventure of a lifetime!
Each day we will take you on a run for about 2 to 4 hours. The distances will be between 8 and 18 km with a variety of terrain from soft bog, open mountain, coastal trails and forest paths. This retreat is not a race! The pace will be relaxed and you will have time to take in the views and enjoy the moment. We are happy to adapt to the groups and individuals fitness levels.
There will be lots of opportunities and free time to enjoy more activities such as Stand Up Paddling, cycling and baking lessons. We will be running workshops on 'The benefits of strength & conditioning', 'Yoga for runners' and 'Having confidence in your own personal space'. This is your timeout, your adventure and we are here to ensure you have the a top class active and cultural vacation.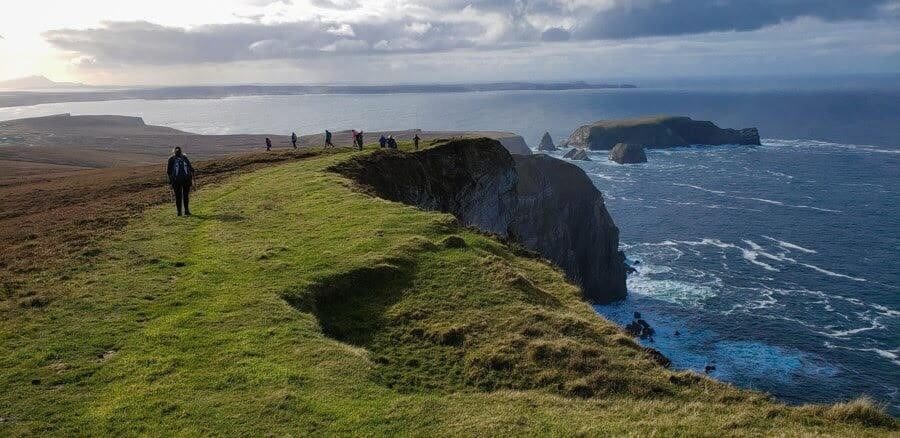 Experience
Get together with like minded people to share a unique running experience. Find and develop yourself as a trail runner enjoying inspirational company supported by your energetic and experienced local guide.
Discover
This fun and adventure packed outdoor escape will take you completely off the beaten paths to discover Ireland's spectacular rugged west coast. Follow your local running guide Rachel to explore her favourite trails and see impressive natural wonders along the Wild Atlantic Way. Explore hidden golden beaches, deserted abbeys or castles and run up historic mountains.
Taste
As well as running in stunning landscapes, this retreat is all about immersing yourself into Irish culture and getting a taste of the local lifestyle. Let Rachel invite you into her home. Join her Mam Marjorie in the kitchen to bake scones together and share them over a hot cup of tea. Make new friends in the local pub, pull your own pint of Guinness and enjoy traditional music and stories.
Highlights
Run along spectacular undiscovered trails
Explore Ireland's hidden gems with your fun & energetic local guide
Connect with like minded runners and explorers from all over the world
Get productive feedback from a highly experienced trail running coach
Be part of a small group to maximise your personal experience
Get off the beaten path and experience the local Irish lifestyle
Visit historic castles and forgotten abbeys
Discover Europe's highest and most stunning cliffs
Explore Ireland's largest Island and it's traditional Irish speaking communities
Learn about the unique styles of Whiskey at Rachel's 'Whiskey Appreciation Session'
Get a taste of traditional food, baking & dancing
Get to know more about the Irish heritage, history and traditions from the locals
Join a runners specific yoga practice
Experience the relaxing and healing effects of a traditional seaweed bath
Find numerous fun water-sport and outdoor activities at your doorstep to mix into your active holiday
Duration
7 nights / 7 days
Accommodation
Hotel with gym + spa facilities
Fully guided
Female Trail running tour
Your guide | Rachel Nolan
As a native of Ballina, Co Mayo I grew up exploring the stunning landscapes along the wild Irish west coast.
Returning home after years of discovering trails all over the world I fell in love with the rugged beauty of this unspoiled nature paradise all over again. For 4 years now I've been a local guide taking fellow adventurers to discover my favourite trails in the west of Ireland and I still find myself amazed by the stunning beauty and wild energy of the area.
I'm passionate about the outdoors and enjoy the roads less travelled. For me this is where the magic happens and where true experiences and memories are shaped. My friends say that if there is a gap in the fence, Rachel will be gone!
For the past 10 years I'm a regular competitor on the Irish and international scene for endurance racing, whether that's trail running, long distance cycling or adventure racing. I'm also a certified personal trainer and Krav Maga self defence instructor which has been part of the ingredients that give me confidence to choose and carve out my own life path.
I strongly believe that balance is the key to a long path of success and I love nothing more than sharing experiences with like-minded people and exploring new cultures and places. By inviting people into my lifestyle I can share my passions and take new friends to explore my favourite hidden gems –  places you will not find without me 😉
I strive to live a healthy lifestyle with wholesome good food, regular yoga practice and of course enjoying the finest of Irish whiskey.
"Get out there, be open, kind and curious. You'll find freedom with no limits !"
In this women's trail running edition, my mission is to bring together a group of amazing like-minded ladies that are also passionate about the outdoors and trail running, to experience, discover and taste the best of the west of Ireland, share these experiences together and leave feeling recharged and connected.
The region | Ireland's west coast
The west of Ireland is a paradise for those that enjoy the outdoors. The rugged unspoilt cliff lined coast, meandering valleys, enchanted forests, open mountains, pristine lakes and golden sandy beaches, offer the best natural resources to enjoy the perfect trail running escape.
Rachel's Irish Adventures Trail Running Retreat will be based in the beautiful adventure counties of Mayo and Sligo. The week long retreat will take you to a variety of stunning trail running locations; from islands to historic mountains, sheep lined cliffs to wild open beaches – the terrain will be varied and each day will have a unique local cultural theme.
Each evening, we will come back to the same cosy hotel so you can relax back and don't have to worry about repacking your bag. Our base will be in Ballina – your guides home town, also known as the salmon capital of Ireland. This is a beautiful location, off the tourist trail and on the doorstep of spectacular undiscovered hidden gems.
Who should sign up?
With this Women | Edition of the 'Call of the West of Ireland – Trail Running Tour' Rachel's Irish Adventures hosts an active trail running & wellness holiday for adventurous and culturally curious women from all over the world.
This is the perfect trail running and culture vacation for you if…
You love the outdoors and want to explore Ireland's stunning & wild nature beyond the beaten tourist trails
You want to escape your routine and take an active time out to recharge your batteries
You are comfortable running 10km on uneven ground
You enjoy meeting and teaming up with new like minded people
You love discovering new places and you are curious about Ireland's cultural heritage
"Ireland's trails especially along the west coast are simply spectacular. A ferry-trail dreamland! And having Rachel as a guide was pure magic. She is a passionate bundle of positive energy who loves sharing her adventures and connecting with people. Rachel made our trail running tour a mind opening adventure on and off the trails." Laura M.
Your trail running retreat
Our exclusive tour is tailored to bring women together to share an inspirational and fun trail running experience off the beaten track.
Included in the price will be:
7 nights Bed & Breakfast in 4 star hotel with a fully equipped gym, swimming pool and spa facilities
Four healthy & tasty dinners
Three specially prepared picnic lunches
Your personal Rachel's Irish Adventures goodie bag
A local fun and energetic guide
Organised off the beaten track spectacular trail runs
Afternoon cultural visits on the trail running days (e.g. Castle tour)
Workshops "Run a healthy balance", "Krav Maga – Self defence", "Runners specific Yoga"
Co-ordination of extra activities on your day off (e.g. Kayaking, SUP, cycling…)
A private 'Whiskey Appreciation Session'
Complimentary transport on days of trail running
Pick up from and to the bus or train station in Ballina on day of arrival and departure (pickup from Knock, Shannon or Dublin airport can be arranged at an extra cost)
Call of the West of Ireland
Trail running & culture
Women | Edition
April 2021
Price per person sharing
€ 1,695.00*
Single supplement
€ 300.00
*We are happy to help solo travelers find a roommate
1 Comment