Why a Bed & Breakfast is the best way to stay in Ireland 
B&B – My favourite way to Experience, Discover and Taste the best of Ireland
Experience
Are you looking for a very real Irish experience? Do you want a unique opportunity to immersive yourself in the local Irish culture? Are you open for a warm welcome into an Irish family home? Then staying in a Bed & Breakfast in Ireland is the ultimate!
No two Bed & Breakfasts are ever the same just like no two homes and no two families are ever the same. This is what really brings your adventure alive! B&Bs can give you a deep insight into the Irish way of life and show you what it's like to be a member of an Irish family.
When you arrive at your Bed & Breakfast, you will be greeted by your host with a smile and an open door. They will invite you into their home and show you your bedroom with pride. This room might be very 80's décor, super modern or whatever the owners style and budget displays. You will more than likely be invited into the dinning room or kitchen for a tea or coffee and some homemade treats or our beloved ginger nut biscuits. Your host will discuss the local area and be curious of your story, they will also ask you what you want for breakfast and what time. As you might already know, breakfast is a big deal for us Irish and we like to get a good start at the day! There is a good chance that in the evening you will end up in the local pub with the owner of the B&B or be invited for a whiskey by an open fire.
People who have a Bed & Breakfast in Ireland are passionate about sharing their knowledge. They usually love for their local community and traditions and want you to feel comfortable and part of the family. In the morning, don't be expecting a daily newspaper to be slipped under your bedroom door but to wake up to a happy positive busy family environment. You will be number one and have your hosts full attention. Be ready to meet the family and if they have children you might hear a blast of the tin whistle or have your breakfast served by one of these little assistants.
Many guests feel so welcome and at home that they come back to the same Bed & Breakfast year after year and they become good friends with the family. In my case, having grown up in Brigown Bed & Breakfast, I have had the pleasure to experience this and look forward to seeing all the familiar and friendly faces return.
This is a picture of myself and Rodulf who has been coming to stay at  'Brigown' since I was 5 years old, that's 29 years of friendship. He now comes for 3 months a year and is almost part of the furniture. He enjoys long days out fishing, having breakfast and dinner with my Mam in the kitchen, feeling at home, having the company and for the past 3 years he has a plugged in freezer in his bedroom just to be close to his catch of the day..
Discover
A Bed & Breakfast in Ireland is often in stunning locations, off the beaten track and in areas with no big hotels. Staying in those B&Bs offers an opportunity to discover what you won't find in the guide book and explore areas that only the extremely culturally curious will reach. This could be anything from a night on the beautiful Inishturk island, off the coast of county Mayo – to getting into the wild's of north Donegal. Everyone knows the cliffs of Moher from the guide books and the intense marketing campaigns but do you know the highest sea cliffs in Ireland are out on the spectacular Achill island? Here you also have a variety of top class friendly Bed & Breakfasts to invite you to the perfect Irish welcome in an idyllic location. During your stay in Bed & Breakfasts in Ireland, your host will supply you with maps and take the time to tell you about the hidden gems in the area and about everything there is to discover. The locals know the region like the back of their hand and whether you are looking for the toughest hike, leisure cycling route or best fish restaurant, they will have a plan just for you. Irish people are proud of their home and will be delighted to help you discover more of the islands beauty.
Experiencing this growing up in Brigown Bed & Breakfast is where my idea to start 'Rachel's Irish Adventures' originated. I strongly believe that traveling is not about visiting sights and ticking boxes but about having personal and unique experiences. For the private tours I tailor, my main focus is to put together a locally immersive experience and therefore I use B&Bs as much as I can, and of course I love to bring tours to my home Brigown – Thanks Mam for always having some home-made treats ready.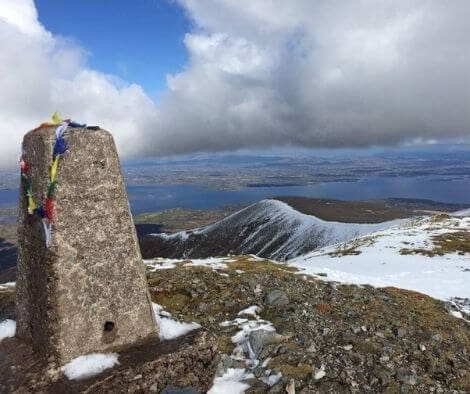 This picture is taken from the summit of Nephin, my favourite local mountain. It's a good hike and the panoramic views are just breath taking . You can see it from the living room window at Brigown and it offers a beautiful backdrop over the town of Ballina.
Taste
Ireland is a foodies paradise! We have all heard it a million times.. Breakfast is the most important meal of the day.. and let me tell you, us Irish know how to do it in style!
In the past, most places just served the traditional Irish fry up which includes sausages, rasher, black and white pudding, fried eggs and tomatoes and toast and all that washed down with a big pot of tea. In recent years, this has all changed, yes Bed & Breakfasts still offer the traditional fry up but are very mindful of where they source the meat, eggs and like to support the local farmer, keeping it all organic and free range while also being more conscious of reducing wastage and overuse of plastic.
Most Bed & Breakfasts in Ireland now offer a large selection for breakfast including traditional and innovative and unique choices. If you are lucky you may even get to enjoy locally roasted coffee to get you wired for the day.
At Brigown my Mam offers a 15 choice breakfast menu which often entices guests to stay an extra couple of nights so they can taste more. Some guests say she should change the name to Brigown Breakfast & Bed.
You are looking for a nice restaurant to go for your evening meal – don't be shy to ask your host. They will be brutally honest and tell you where the food and service is top class and what they think you just have to try. This is certainly the best way to avoid the tourist traps.
If you would like a reservation made, they will call the restaurant for you and you will have the best table. Some Bed & Breakfasts offer an evening meal where you can sit down and enjoy a traditional Irish meal with the family, however this is usually only in very rural areas where there are no places to eat within a reachable distance.
My Mam has always been passionate about baking and cooking and loves to share this passion with others. She is the author of 4 cookery books and 'Marjorie's kitchen' was featured on local radio for more than 30 years and she still has a monthly feature in Ireland's Own magazine.  Marjorie invites guests in the kitchen for fun and interactive traditional Irish baking experiences and every B&B guests gets to enjoy her home-made brown bread and scones.
Can Bed & Breakfasts in Ireland adapt to the changing environment?
The way people travel has dramatically changed in recent years and will continue to modernise. Does this mean that the trade of B&B in Ireland will slowly fade out?
Bed & Breakfasts originally started by entrepreneurial house wives. The husband was off at work and the wife was at home looking after the children and holding the household together. As the children got older, if they had spare rooms in the house, the woman would offer them out for Bed & Breakfast. This allowed women to be more independent, have a small income which was often used to pay for household necessities. The hospitality offered in Bed & Breakfasts today is as friendly and high quality as ever but as I go around the country staying in B&B's, I now see the hosts struggling to keep up with the fast moving digital world. A lot of the B&B hosts are now in their 60's and would ideally like to retire soon, they are finding it more stressful to answer emails, keep up with new booking systems like Airbnb and booking.com and have a functional website.
Up until about 10 years ago, most bookings were coming from passerby's, phone and the occasional email, word of mouth was key and repeat business was a definite as strong friendships were created between the guests and host.
In recent times, most people are booking online and expect an instant reply. I had a case last summer where a couple called to the door saying they were booked in, I told them I had no reservation in the calendar but we had room. As we were having a coffee and a chat, the lovely German couple informed me that they made the booking online from their car at the bottom of the driveway 2 minutes before knocking on the front door. Everything is done with the click of a button and if we are not up to speed, will people wait for us?
Booking platforms and B&B in Ireland
Online booking platforms such as Airbnb and booking.com are known as the devils for some and a saviour for others. I have used both for booking my own accommodation and also to help my Mam promote Brigown B&B and offer rooms.
I, like many other people nowadays, see the huge advantages.
Booking online is fast. It's easy to compare rooms and prices and after a few clicks later everything is set.
Unfortunately what I also see is that, for many B&B owners, it's just too complicated and demanding to be full time 'on call'.
1. If your B&B is not online no one will find it. Who takes a look in the phone book nowadays?
2. Guests like instant confirmation of their booking. Often a B&B is run by just one person, therefore it might take a few hours to reply to incoming requests. Sometimes guests book somewhere else in the meantime.
3. All booking platforms take a commission, some up to 30%. There is not a massive profit in running a Bed & Breakfast in Ireland. Most B&Bs have to add the commissions onto their price which often makes them appear too expensive.
4. Online reviews can make or brake you. In some cases a guest won't tell the host what's wrong but will let the rest of the world know in exact detail. B&B hosts are welcoming guests in their home. It's the place they live and have raised their children. It's not a hotel and that is what makes it so unique and personal. Bad reviews can not only really hurt feelings but nowadays also reduce the chance of future bookings. This is a tough one to handle for many B&B owners.
My personal advice is always to try to go direct. Use platforms for your research but then cut out the middle man. Ring up that B&B you found or pop them an e-mail. Have a little patience. As a reward you might find your home away from home and even save some money. Running a Bed & Breakfast in Ireland is certainly not a holiday but also not a strict business. It's a real passion project. It's hard work and very time consuming. From breakfast preparations, to running up and down to the close-line 101 times, keeping track of bookings and requests to waiting up late for guests to arrive because they miscalculated the time it takes to travel on the back roads, it's seriously full on and can cause long working days.
To run a Bed & Breakfast, you need to be extremely passionate and have great pride in your home and your region, be super sociable and enjoy sharing your home and story with others. For my Mam Marjorie it came natural as her Mam also ran a Bed & Breakfast- just next door to our current house. She grew up in the middle of this very special cultural environment in the west of Ireland. Marjorie takes great pride in welcoming guests into our home and loves inviting them into the living room for a tea and whatever came out of the oven. It's her way of traveling and discovering different cultures while based in her hometown of Ballina. She did not set up a Bed & Breakfast to be a business woman or ever think that she would need to be digitally savvy and spend time behind a screen.
Even though she doesn't look it Mam has been in her 60's for a while now. She still loves welcoming guests into the B&B but will probably love to retire at some point in the next 20 years!
Having grown up in Brigown B&B and seen my Mam in action for the past 30 years, I'm not sure I would be dedicated and selfless enough to continue on this family tradition but who knows!