Irish history tour itinerary:
Ireland North-West
Discover the Causeway coast and the Wild Atlantic Way
Discover the Irish way of life with your local guide! Explore spectacular landscapes and dive deeper into Ireland's colourful history. Are you looking for the perfect Irish history tour itinerary? We can tailor a package to meet your needs.
Explore the rugged Irish coastline and walk along breath-taking sheep trails. Learn about the troubles in Norther Ireland and the islands history with the UK. Experience the renowned Irish culture first hand. Enjoy a baking lesson in an Irish home, pull your own pint of Guinness and listen to traditional music in the local pub. Relax back as your fun local guide shows you places you would never find alone. Stay in hand selected accommodation & enjoy top class service wherever you go. Make the most of the moment with a flexible itinerary that will be adapted to meet your needs.
This is an example of a fully guided tour.
All tours are tailor made and we are delighted to adapt them to meet your needs.
Highlights of your Irish History Tour Itinerary
Highlights
Take time to explore Ireland's capital city Dublin, it's cultural, historic and lively atmosphere
Discover the Causeway coast, Giant's causeway and the historic city of Belfast
Walk along the edges of some of Europe's highest cliffs & take in the panoramic views
Experience a baking lesson in an Irish home & learn about the craft and tastes of Irish whiskey
Listen to Irish music, enjoy a pint of Guinness and a local beer with the 'new friends' in the pub
Explore the very best of the north west Wild Atlantic Way & its hidden gems
Soak in the lively atmosphere of Galway city, it's bars and shopping experience
Indulge on the finest of Irish dishes in unique locations, castles, Irish home and traditional pubs
Accommodation: Boutique Bed & Breakfast/Hotel
Fully guided: Tailor-made Irish history tour itinerary
Starting Point: Dublin
Finishing Point: Galway
Day 1
Belfast & the Causeway coast
You will be picked up from Dublin city centre by your local guide Rachel.
It's a 2 hour drive to the historic Belfast city where we will have a quick lunch and then meet your local guide Joe for an in-dept personalised tour of Belfast, learning about the past troubles and the current day situation.
Joe grew up in the 'troubles', is an ex member of the IRA and was a driver for some of the members of the political parties. His personal account of the past and current situation of Northern Ireland is moving and absolutely mind-blowing!
Relax back for a 90 minute drive to the stunning causeway coast where you will discover some of the key locations where Game of Thrones was filmed. It's then onto the quaint town of Bushmills where you will spend two nights.
Day 2
Causeway coast
After a delicious breakfast served by your host, we will drive 10 minutes along the coast to the Carrick-a-Rede ropes. The bridge links the mainland to the tiny island of Carrareade. It is thought salmon fishermen have been building bridges to the island for over 350 years. In 1970, it had one handrail and large gaps between the slates but today it is much safer. After the visit, our breath-taking coastal trail walk begins. We will follow part of the Ulster Way, hugging the rugged cliff-lined path and pass by historic castle ruins, scenes from Game of Thrones and finish off at the famous Giant's Causeway, where we walk down into this famous area of about 40,000 interlocking basalt columns which was the result of an ancient volcanic eruption. This is the non-traditional way to approach this UNESO site and will allow you to experience it without following the crowds. Rachel can organise a picnic or you can stop off in a café for lunch.
There is the option to walk back along the marked coastal trail to your B&B or get transferred back to your hotel. You can then choose to relax back and stroll around Bushmills or visit the Bushmills distillery.
Day 3
Donegal
Once you are all fuelled up, it's a road trip to the wilds of Donegal in the north west of Ireland. Named by National Geographic as the coolest place on the planet, you will be entertained by traditional music, friendly fun people, pristine golden beaches, rugged stunning coastlines and local culture.
We will have a coffee, scone and cultural stop on route and there will be lots of flexibility if you want to stop off. We will arrive in Donegal town at your beautiful boutique B&B in the afternoon. It's a 10 minute walk into the town centre where you can take a boat trip, shop for Irish crafts, woollen jumpers and anything else you wish to purchase. Dinner will be served in the Quay restaurant, that specialises in local cuisine and renowned for their fresh fish dishes. For the more energetic, you can visit one of the many pubs to listen to traditional Irish music and enjoy an Irish whiskey.
Day 4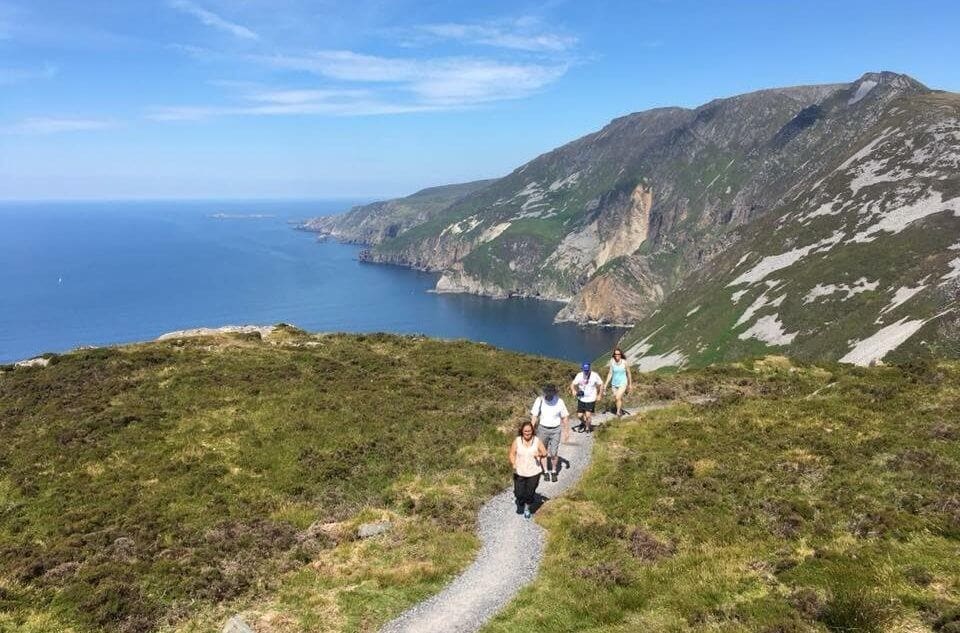 Donegal
Once you have enjoyed your hearty Irish breakfast, get ready for a top class guided day trip to visit the stunning cliffs of Slieve League and the Folk museum of Glencolumbkille which personifies the endured hardship, famine and debilitating emigration that Ireland suffered for so many years.
This is an area with so many magical trails so if you would like to hike the trails, Rachel has the plan for you and if you rather relax in by a hidden beach, you are spoilt for choice!
In the evening, there will be more options listen to traditional Irish music, sample local beer and soak in the Irish atmosphere.
Day 5
Sligo's Wild Atlantic Way
Don't forget to try the porridge which is the stable breakfast for us Irish! Today, we'll explore Sligo's Wild Atlantic Way. The first stop will be the at Knocknarea where we will hike up to discover Queen Maeve's grave, one of Ireland's finest unexcavated passage tombs. Rachel will tell you the tales as you take in the panoramic views over the Atlantic ocean and onto country Mayo and Donegal.
We'll stop off for lunch in the very trendy Shell's café where you can savour the finest organic local produce and soak up the informal surf vibes of Strandhill. We'll then follow on along the coastline but there will be an obligatory stop at the beach bar for an Irish coffee or pint of Guinness while we look back onto where we climbed up Knocknarea. It's then a short drive to Easkey where we can stop off at Rosie's pottery before arriving at the seaside town of Enniscrone and onto Ballina where you will spend the next 2 nights at Brigown B&B (Rachel's home), overlooking the famous River Moy & Belleek woods. This evening, you will dine with Rachel and her mother Marjorie at their home at Brigown and take in this true Irish experience with a home cooked meal and our favourite dessert!
Day 6
Mayo's Wild Atlantic Way
This morning you are in for a treat, with a delicious breakfast specialising in all local products and home baking, you will be fuelled for the day! Today, Rachel will drive you along the coastal route to the beautiful cliffs and sea stack at Down Patrick head, this is one of Ireland's 7 wonders to discover! We can then explore the Ceide Fields. This site is the most extensive Neolithic site in Ireland and contains the oldest known fiend systems in the world. We can have stop off at Mary's cottage for a coffee  before returning to Brigown B&B.
Get ready for a very special Irish experience in Marjorie's kitchen where you will learn to prepare scones, Irish potato bread and & Guinness traditional soda bread. You'll enjoy all after with a homemade jam and washed down with tea or coffee. You will then pop in next door for Rachel's Whiskey Appreciation Session where you will learn the unique styles of whiskey and discover what you like and why. After, it's a short stroll down to Keanes pub where you will learn to pull your own pint of Guinness. Dinner is served next door in Crockets on the Quay- you should try their fish and chip.
Day 7
Westport & Galway
After a delicious breakfast, (you should try the locally smoked salmon and scrambled eggs), we'll take a short scenic drive to Westport where you have a time to visit the colourful village and browse around the shops.
It's then onto Doolough where we will stop off at Gleenkeen farm and watch the sheep dogs in action. Their cafe is the perfect lunch stop serving homemade treats, soup and sandwiches. In the afternoon, we will visit the iconic Aasleagh Falls and if we have time, Kylemore Abbey before following the beautiful route of Connemara to Galway city.
Once we arrive at your centrally located hotel, you will have time to freshen up and get ready for a stroll down the bustling shop street to Keogh's bar.
This is a typical Irish pub that serves delicious food. It's Rachel's pub of choice in Galway for eating out with friends!
Day 8
Galway & Departure
Take your time and indulge on a late breakfast and soak up the slow rhythm of the Irish way of life. Today is a free day to choose from several activities, go shopping in the Galway city, visit the museums, take a boat trip or just relax back and wander around the lively and colourful streets of Galway. Rachel will be there to organise any activities you wish to experience. Rachel will help co-ordinate your departure arrangements.
Prices
*All tours are tailored to the clients needs. Prices are an estimate and may vary depending on activities and availability of accommodation. 
Price per person sharing 4-6 people
€ 2,250.00
Price per person sharing 7-8 people
€ 1,950.00
Single Supplement
€ 250.00
Included in price:
Seven nights' accommodation in specially selected Bed & Breakfasts/Hotels
Six evening meals in specially selected local restaurants and Irish home
Two lunches (Day 4 & 6)
Locally guided cultural guided tour of Belfast (ex-member of the IRA)
Entry fee for the Carrick-a-Rede ropes
Tour of Glencolumkil to discover the villages historic culture & traditions
Guided walks with lots of variety in an easy going atmosphere
Guided tour of Belleek castle
Organisation of extra activities on request
Specially selected fun off the beaten track trail + cultural adventures
Complimentary transport throughout your stay starting in Dublin and finishing in Galway
Not Included:
Dinner on two nights (Evenings 2 & 8)
Lunch on two days
Tour of Bushmills distillery